Neighborhood
There is something special for everyone - the ideal starting point for activities and sightseeing:
Jogging - Hiking - Cycling - Golf - Spas - Museum – Cities –
Amusement Parks - Shopping - Swimming in the Baltic Sea
LÜNEBURG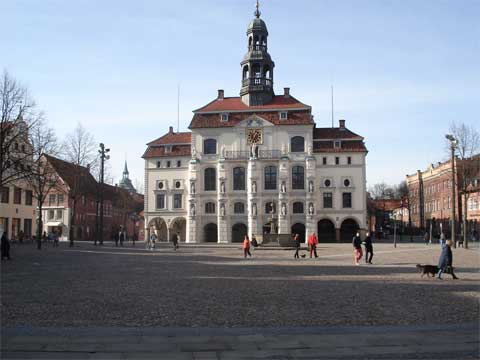 Lüneburg / Town Hall
The over 1050-year-old salt and Hanseatic city with its historic Old Town consisting of late Gothic, Renaissance and the North German brick architecture is just 4 km away.
It is a university city at the Ilmenau, about 73,000 habitants live here and it has a beautiful park. The city ranks the second for the number of restaurants and bars in Europe after Madrid
ICE trains from Hamburg to the south stop in Lüneburg. Besides, suburban trains leave every 30 minutes to Hamburg.
HAMBURG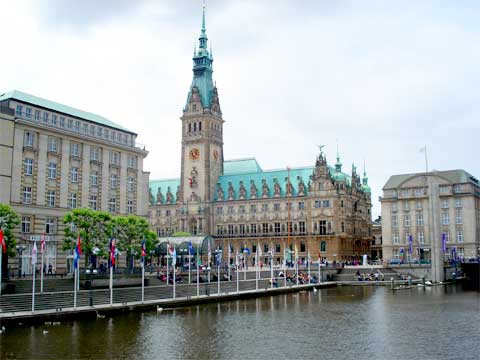 Hamburg / Town Hall
It is considered the second-largest city and gateway to the world, and it is one of the most beautiful cities in Europe. It always deserves a visit. A harbor cruise, the Reeperbahn in St. Pauli, numerous bridges and canals, the Innenalster, theaters, music and shopping in the city center – they are all parts of the city.
THERMAL SPAS
Visit the Salü Salt Spa swimming pool in Lüneburg directly in the health resort, or the only mineral spa in the Lüneburg Heath, the Jod-Sol-Therme in Bad Bevensen only 28 km away from Lüneburg or salt baths in Soltau with 600 m2 of indoor and outdoor pools and water temperature of 36°C or the Brine Steam Bath with 45°C water temperature.
HOLIDAY REGION LÜNEBURGER HEIDE (LÜNEBURG HEATH)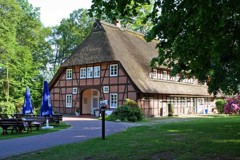 Lüneburg neighborhood
On the territory of 7,400 km2, there is one of the oldest and most beautiful landscapes in Germany, especially when it blooms in August and September.
It is located in the triangle of Hannover, Bremen and Hamburg and serves as a recreational area for these cities. Bogs, forests, heathlands and streams can be explored by bike, on foot, on horseback, in a horse-drawn carriage or by Nordic walking.
Visit the amusement park in Soltau, the bird park in Walsrode, the Serengeti Park in Hodenhausen and enjoy our local cuisine.