Hotel
... perfect for business travelers and those traveling alone,
couples and vacationers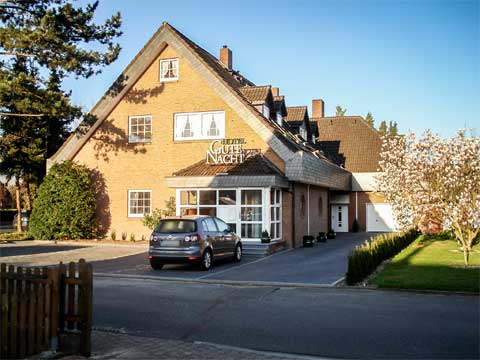 Looking for a small private non-smoking hotel located in a quiet place but relatively close to the center?
We offer 9 individually designed double rooms with a balcony, shower / WC, hairdryer, cable TV with the 32" flat screen TV set, breakfast room, front desk, free Wi-Fi internet access and free parking in front of the house.
The hotel's location is central and convenient: it is located 4 km away from the center of the old salt and Hanseatic City of Lüneburg in the Lüneburg Heath Nature Park and 3 km away from the A39 motorway to Hamburg. The bus stop to Lüneburg is in a 5-minute walk. If necessary, we will pick you up from the Lüneburg station or bring you there.
Even Hamburg, located 48 km away, can be reached in a 45-minute drive or 30-minutes train ride from Lüneburg. The train leaves every half hour. Hamburg Airport is located in a 60 - 80-minute ride by public transport.