CYCLING TOURS FROM THE HOTEL Gute Nacht ADENDORF
Bike tour from Adendorf via Lüneburg to the nature reserve Ilmenauaue
From Adendorf (Hotel Gute Nacht) along the Vrestorfer Weg, along the Streitmoor on the Way of St. James Via Scandinavica, on the banks of the Ilmenau into the old town of Luneburg. We come to the old port and the Abtsmühle, a former grain mill from the 16th century in the historic harbor area on the Ilmenau with a tower from 1530.
old port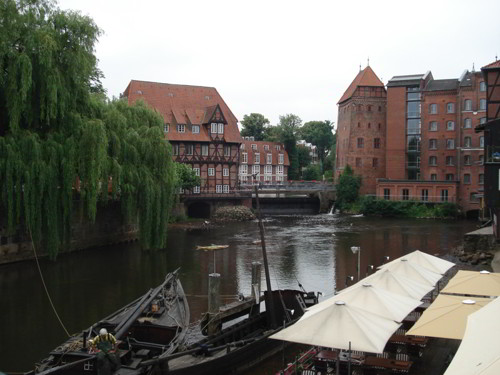 On our way we pass the medieval square "Am Sande", surrounded by gabled houses with staircase and worm gables as well as the St. Johannis church.
St. Johannis church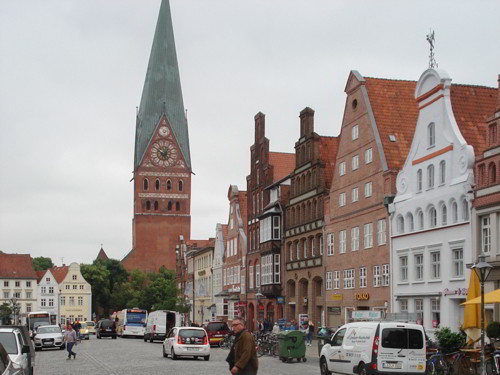 We drive through the llmenauauen to the devil's bridge to Ilmenau - Wilschenbruch, on to Ilmenau via Luneburg, past the monastery Luene through the Luner Holz to Adendorf.

From Adendorf to the "Old Crane" cycle route
On our bike tour we come to the monastery Luene, on to the old harbor, where we visit the historic port crane from 1797.
historic port crane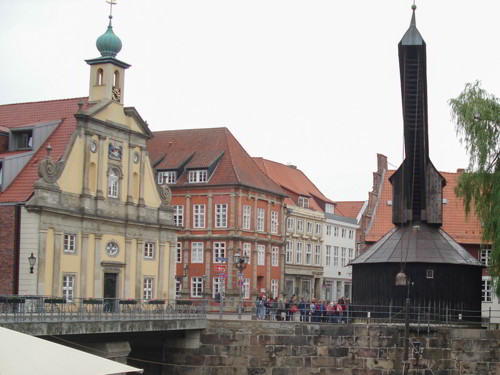 Continue past the museum Luneburg, through the llmenau meadows to the Elbe side canal.
At the ship lift Scharnebeck we turn westward.
Back in Adendorf, we arrive at the Johannes Chapel,a brick building from around 1258, passing by.
The Johanneskapelle is in the months of July and August
every Saturday between 4 and 6 pm for sightseeing and worship.
Further sightseeing appointments can be arranged with Heidrun Fedrowitz.
Tel .: 04131/180122
Johannes Chapel


Elbe bike path from Lauenburg to the UNESCO Biosphere Reserve
The tour starts in Lauenburg, 20 km from Adendorf, at the free parking lot "BORKEPLATZ".
Lauenburg
View to Lauenburg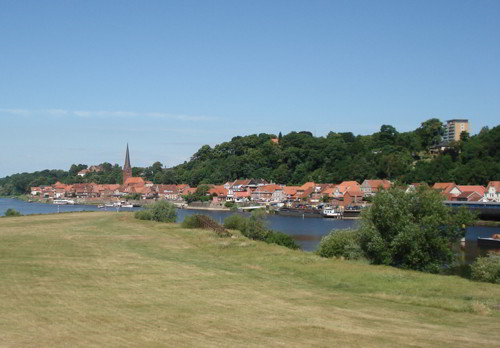 We cross the Elbe on a side-by-side bike path on the main road 209 and drive mostly on cycle paths upstream to the ferry Bleckede.

ferry timetable:
Monday to Saturday: 5:00 to 23:00
Sunday and public holidays from 9:00 to 21:00 - 1 May to 30 September to 21:30
Bicycle: 0,50 € plus 1,00 € each adult / 0,50 € each child (4-12 years)

On the way back we come through the UNESCO Biosphere Reserve River Landscape Elbe-Mecklenburg-Western Pomerania to Boizenburg / Elbe, the westernmost city of Mecklenburg, located at the border triangle with
Lower Saxony and Schleswig-Holstein.
Attractions in Boizenburg include the Town Hall from 1712 and St. Mary's Church.
The origins of the church are Romanesque. After the destruction as a result of a fire, reconstruction began in 1717.
Back in Lauenburg you should look at the old town. Worthwhile is also a visit to the Elbe Maritime Museum.